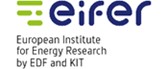 EIfER Europäisches Institut für Energieforschung EDF-KIT-EWIV
Kurzübersicht:
Gründer: KIT (vormals TH) und EDF (Electricite de France Service National)
Gründung: 2001
Homepage: www.eifer.org
Kontakt: contact∂eifer.org
Bereich: Energieforschung
Beschreibung:
EIfER, eine Europäische wirtschaftliche Interessenvereinigung mit Sitz in Karlsruhe, wurde 2001 von der damaligen Universität Karlsruhe (TH) (jetzt: KIT) und dem französischen Staatsunternehmen Electricite de France Service National (EDF) gegründet. Mit EIfER sind die 2.000 Mitarbeiter der Forschungs- und Entwicklungsabteilung der EDF mit den 8.000 Wissenschaftlern und 18.000 Studenten des KIT für eine gemeinsame Mission vernetzt: Eine gemeinsame Institution, die multidisziplinäres Know-How rund um "Sustainable Cities" und "Distributed Energy" entwickelt und sich der Energie- und Umweltforschung widmet.
Die Forschungsaktivitäten sind in drei Hauptbereiche gegliedert:
Energy ressources and decentralized production
Energy, cities and territories
Economics of energy systems and enviroment
EIfER ist eine anerkannte Forschungseinrichtung mit über 110 Mitarbeitern aus 14 Ländern, die gemeinsam mit EDF, KIT und anderen führenden Partnern aus der Wissenschaft und der Industrie verschiedene nationale und EU-geförderte Forschungsprojekte durchführt.