Technology screening
Are you looking for an individual solution or an opportunity to further develop your product portfolio?
The thematically oriented innovation managers of the IRM team are available to answer your individual questions on research or on specific KIT technologies - thus you gain access to new knowledge, innovative technologies, and research results close to the market.
For this purpose, the innovation managers carry out a targeted search in the KIT's stock of technology offers, for example. Through this personal contact, you can receive specifically researched information on suitable technologies and contacts to inventors and scientists of the KIT.
Contact us at any time by phone or e-mail!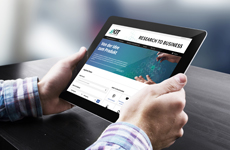 Technology Alert
Receive the latest technology offers from the industries of your choice via email as soon as they are released.
Register