The Cloud Makers
Together with Bilfinger Noell GmbH, researchers from the Institute for Meteorology and Climate Research (IMK) at KIT want to professionalize cloud research.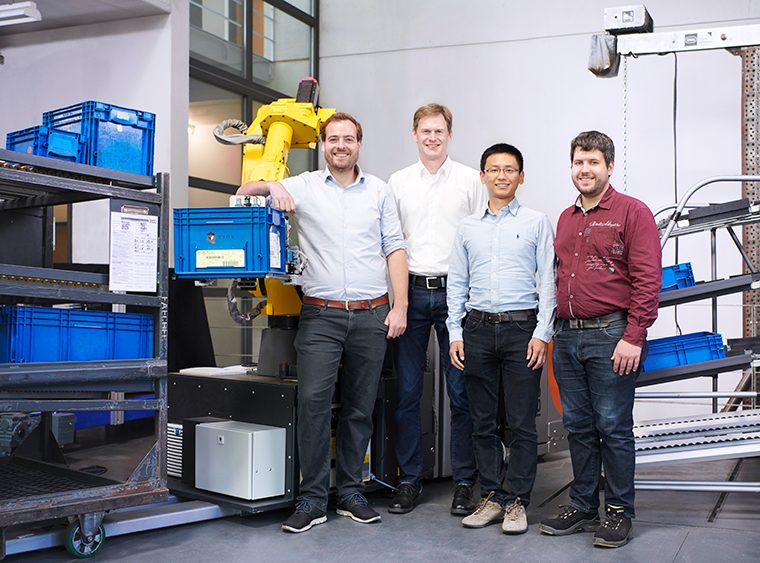 The project team around PINE in front of the research facility AIDA 2.0: From left Dr. Wolfgang Walter, Dr. Christian Boffo and Tatjana Pfeuffer from Bilfinger Noell and from right the aerosol researchers Dr. Ottmar Möhler and Dr. Larissa Lacher from KIT (Image: Patrick Langer/KIT)
Dr. Larissa Lacher from the Institute of Meteorology and Climate Research (IMK) at KIT is pleased to report that "we are making the first clouds at noon today" – in foresight of the upcoming test measurements with PINE (Portable Ice Nucleation Experiment). Just a few days ago, the ready-for-sale measuring instrument for aerosols and ice nucleating particles (INPs for short) from the pilot series was delivered to the institute, which was developed by the IMK research group together with the engineers from Bilfinger Noell GmbH. The measuring device passes through a final check at the institute before delivery to the very first customer.

Product development with concept
Dr. Ottmar Möhler, head of the research group Aerosol-Cloud-Processes at the IMK, explains the background: "Ice nucleation particles or ice-forming particles are an important influencing factor for radiation-relevant properties of clouds and can affect precipitation formation. Here, systematic measurements can provide information about details of the formation and number of ice-forming particles in clouds. We started 2018 with the idea and a laboratory prototype for portable measurements. Since then, we have successfully built a commercial instrument together with our partner". As part of a technology transfer project – the funding instrument for the product-oriented further development of research results at KIT – a mobile, fully automated instrument for measuring the concentration of ice-forming particles was developed. Dr. Cristian Boffo, Head of Magnet Technology Development at Bilfinger Noell, adds: "The cooperation model and the partnership-based, goal-oriented cooperation were very successful. On the one hand, the project result was achieved in a record time of one year. On the other hand, we now have a product that we can market together worldwide."
Technological progress connects
With this success, Bilfinger Noell and KIT can look back on many years of cooperation, as Dr. Roland Hepper, Managing Director of the company, knows: "There have been very good connections to KIT for decades. We currently have several cooperations, for example in cryogenic, magnetic, vacuum and superconducting technology as well as energy storage. The cooperation is characterized as a sustainable partnership of mutual benefit." The industrial services provider Bilfinger Noell stands for high-tech and engineering know-how with an extensive range of services. "It was important for us to work together with an experienced industrial partner whom we know and appreciate in such an investment-rich project as PINE. The expertise in the area of special plants benefited us in the project," underlines Dr. Möhler.
Better understanding of precipitation
At the scientific level and in the development of PINE, the cloud researchers at KIT were also supported by researchers from the University of Leeds. The international collaboration makes clear how important it is to elucidate cloud processes and in particular the influence of aerosols. Aerosols are tiny suspended particles that originate from various natural and human-generated sources. A very small subset of the aerosol particles, the so-called ice nucleating particles or INPs, are responsible for ice formation in clouds, such as demonstrably desert dust, bacteria or plant remains.
Water vapor is deposited on these tiny particles, forming water droplets that form whole clouds. Some of the droplets freeze at temperatures between 0 and -35 degrees Celsius to form ice crystals, which only happens at around -35 to -38 degrees Celsius without the effect of the INPs. As the number of ice crystals in a mixed cloud consisting of water droplets and ice crystals increases, their optical properties and durability change, as more precipitation is generated during the ice phase and the cloud can thus "dissolve". In addition, the temporal and spatial distribution of precipitation is influenced by individual particle occurrences. As a result, ice-forming particles have a very high impact on weather and climate.
Until now, it has only been possible to measure which and how many of these ice nucleation particles can be found in the atmosphere using very time-consuming methods and with low temporal resolution: "Existing online ice nucleation counters are currently not capable of long-term observation because the equipment has to be actively maintained. This limits us to field campaigns with short insights into the ice nucleation capacity of aerosol particles," says Dr. Lacher, who has already conducted numerous field campaigns, such as on the Jungfraujoch in the Swiss Alps or on the Puy de Dôme in France. As the first fully automated measuring device, PINE is predestined for long-term operation.
Small AIDA more flexibility
With the large-scale research facility AIDA (Aerosol Interactions and Dynamics in the Atmosphere) on Campus North of KIT, the project partners have already created a unique experimental facility for investigating the effects of aerosols. Here, Dr. Möhler has already been active as initiator and project leader. "In addition to the laboratory test facility, we also wanted to provide a mobile solution," says the physicist. PINE can be used in the field, e.g. on mountain stations or other meteorological measuring stations, as well as for research work on ice nucleation in the laboratory. The challenge was to scale and automate the established AIDA principle to a mobile device. The requirements of miniaturization could be solved by open exchange with Bilfinger Noell. Dr. Boffo explains: "Based on our cryogenic experience, we have, among other things, developed a more compact cooling system for PINE".
Mobile measurement of ice nuclei
A measurement with PINE generally runs in three controlled cycles. In the rinsing phase, surrounding air, which is still going through a drying step, is passed through a valve into the characteristic cooled expansion chamber where it is homogeneously distributed. The injected air contains aerosols with the potential to form ice nucleating particles. When the chamber is completely filled, the inlet is closed and air is pumped out of the chamber in a controlled manner, a so-called "expansion". This principle imitates the cloud formation by lifting the air mass. As a result, pressure and temperature drop and relative humidity rise within the chamber until the ice or liquid saturation is exceeded and cloud droplets and ice crystals can form - a mixed phase cloud. With PINE, clouds can truly be created under controlled conditions.
Both the smaller droplets and the large ice crystals are finally conducted out of the expansion chamber and measured with an optical particle counter (OPC). The detector has to be very sensitive and cover a large dynamic range: "It may be necessary to find the one ice nucleating particle among several thousand aerosol particles. From none to 1000 INPs per cycle everything is possible", Dr. Lacher describes. The third and final step is the establishment of the initial state: New air is refilled and the air already analyzed is carried out as in a cycle. These cycles are repeated in a field campaign with a high temporal resolution of approx. 5 minutes.
Cloud research worldwide
"Worldwide, there are currently about 50 research groups dealing with laboratory measurements for ice nucleation or with INP measurements in the atmosphere," reports Dr. Möhler. The increasing interest is accompanied by a shift from pure laboratory results to field campaigns. The aim is to fully understand the mechanisms of cloud and precipitation formation so that they can be used reliably for weather forecasts and climate modelling at some point in the future. PINE offers researchers the opportunity to carry out continuous measurements at the location of their choice, even with low human resources and little effort. Compared to existing technologies, larger amounts of air can also be measured in less time. Dr. Möhler summarizes: "A few years ago, I did not consider the commercialization of research results as part of my work. But in the meantime I regard it as a great opportunity to create a new device for science as a standard and to promote the gain of knowledge".
Good prospects
After the successful product development, the focus in the near future will be on further establishment as a research device and the formation of a worldwide user network. For this purpose, further services, such as the calibration of the individual measuring instruments, on the AIDA system are conceivable. The research landscape is limited, so that PINE is already considered as a success when selling smaller quantities. From Bilfinger Noell's point of view, the investment in a niche product is nevertheless worthwhile: "Direct and close participation in the development of new technologies enables us to further develop existing core competencies, has the potential to expand our range of products and services and at the same time opens up a completely new customer base. This has a positive effect not only for KIT as a research institution, but also for us," concludes Dr. Hepper.
In the long run, a more compact version without cooling or humidity control systems for the highly sensitive measurement of aerosol particles in technical environments, e.g. in industrial or clean room environments, is a possible further development. "We will continue our development work so that we can build even more widely applicable and cost-effective devices to make the product attractive for industry as well," says Dr. Boffo.
CONTACT:
Institute of Meteorology and Climate Research (IMK)
Dr. Ottmar Möhler
ottmar.moehler∂kit.edu
www.imk.kit.edu
Bilfinger Noell GmbH
Michael Gehring
michael.gehring∂bilfinger.com
www.noell.bilfinger.com/pine